The value of Luxury for our Company
Made by you, Made for you!
What is Luxury? We have identified four words that define the concept well to tell what is behind the Artisanal work of the products we make.

The first word is time. We are used to a society that constantly asks us to run, from work to leisure time.
Slowness has always been the characteristic of craftsmanship, not to be intended as a waste of time but as the need for careful and ethical work. It is not by chance that more than 100 steps are needed to make a handmade customized shoe.

The quality can not be separated from a luxury item, and also, on this aspect, we increase attention. Each workmanship is verified by an internal control process to provide each of our customers with a perfect product.

Uniqueness cannot be missing. This represents the heart of our Brand. Each piece created will never be identical to another. Our advanced customization technique allows us to give each production an added value because each shoe could potentially be unique in the world.

Research is another founding pillar of our philosophy. We continuously invest resources to create the best shopping experience for our customers. We have developed the 3D configurator to allow each user, from the comfort of his home, to customize every detail of the product, from the type and color of the leather, to the accessories, soles and laces.
Build & customize your Golf and Bespoke shoes.
Material, finishing, colors, and accessories for your ideal shoes.
Discover all our Collections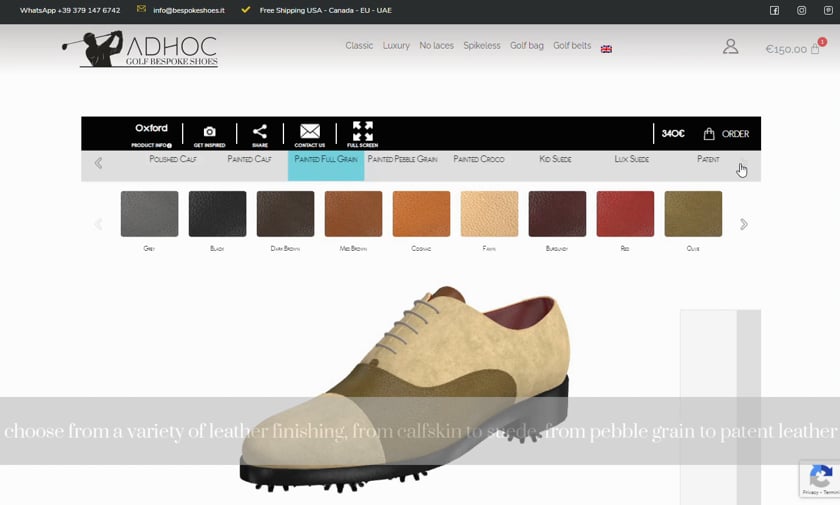 We sell a Vision, not simply a pair of shoes.